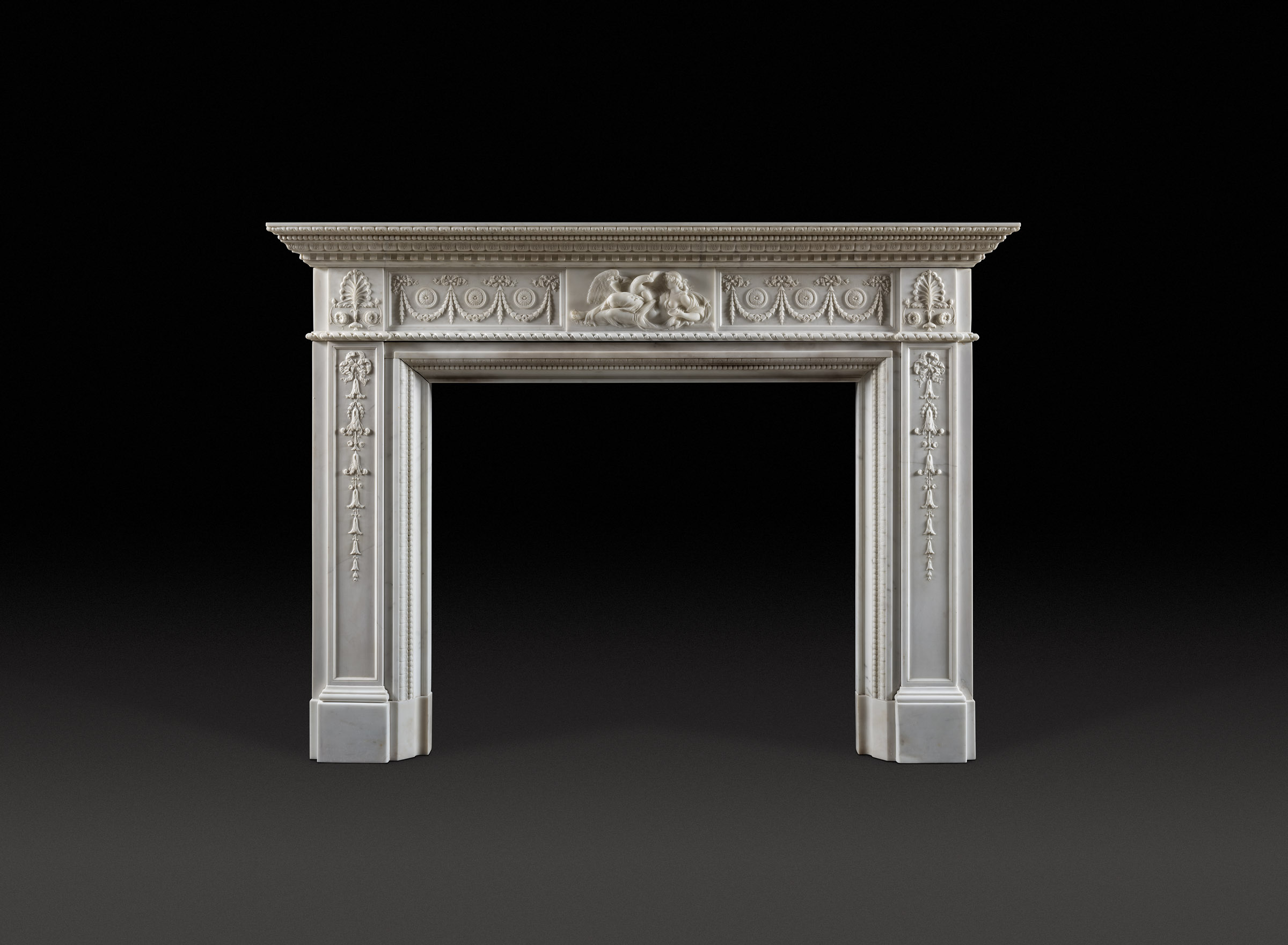 An Extremely Fine Regency Statuary Marble Chimnneypiece Incorporating A Tablet Showing Hebe and The Eagle
The frieze confidently carved in high relief with swags of flowers tied with ribbons and round patera. The corners centred upon anthemions and the jambs incorporating descending pillars of bellfowers tied with bows. The skill of
the carvers is demonstrated by the use of multiple decorative mouldings, ranging from a superb wrythen moulding that separates the frieze from the jambs to the various forms of beading and pearling used around the opening.
The central tablet is a particularly interesting and beautifully executed portrait of the goddess Hebe, symbolic of life and youth and the cup bearer of the gods. Hebe's role was to feed nectar to the gods, including her father Zeus (here represented as an eagle) which maintained their eternal youth. In the context of a chimneypiece, Hebe was likely chosen for more than simply decorative effect-her image conveying good luck and youthfulness to the purchasers of this fine piece.
During the 18th century, it was not uncommon for the great portrait painters to show some of their patrons in the guise of classical gods and goddesses and Hebe was a popular choice in this regard. Richard Cosway portrayed Lady Anna Maria Stanhope as the goddess and John Hoppner portrayed his client Lady Heathcote in the same way. The artist Gavin Hamilton produced a particularly evocative image of Hebe which was widely reproduced, including in this image by the printmaker Domenico Cunego.
A chimneypiece that is virtually identical to ours in all respects was advertised by the important dealer C. J. Pratt of Brompton Road in Connoisseur magazine, June 1957. The only difference between our piece and this one is that the wrythen moulding in the Pratt piece slopes from right to left and ours slopes from left to right. It is possible that this tiny difference could be explained by the fact that the two were produced from the same design drawing, and in the same workshop, by one carver who was left handed and the other right handed.
Another chimneypiece which is identical to ours apart from the central tablet is at Ragley House in Warwickshire in the dining room. The Ragley chimneypiece is not original to the room but was installed during the refurbishment and decoration of the house by John Fowler of Colefax and Fowler in the 1960s and 70s. In August of 1966, Stanley Pratt, another important dealer in chimneypieces, offered a pair of chimneypieces of the Ragley design in Connoisseur and it is likely that John Fowler acquired the Ragley piece from them at this time.
Height 53⅞in (137cm) width 75in (190cm)
Internal height 38⅛in (97cm) width 44⅛in (112cm)
Shelf depth 8¼in (21cm)