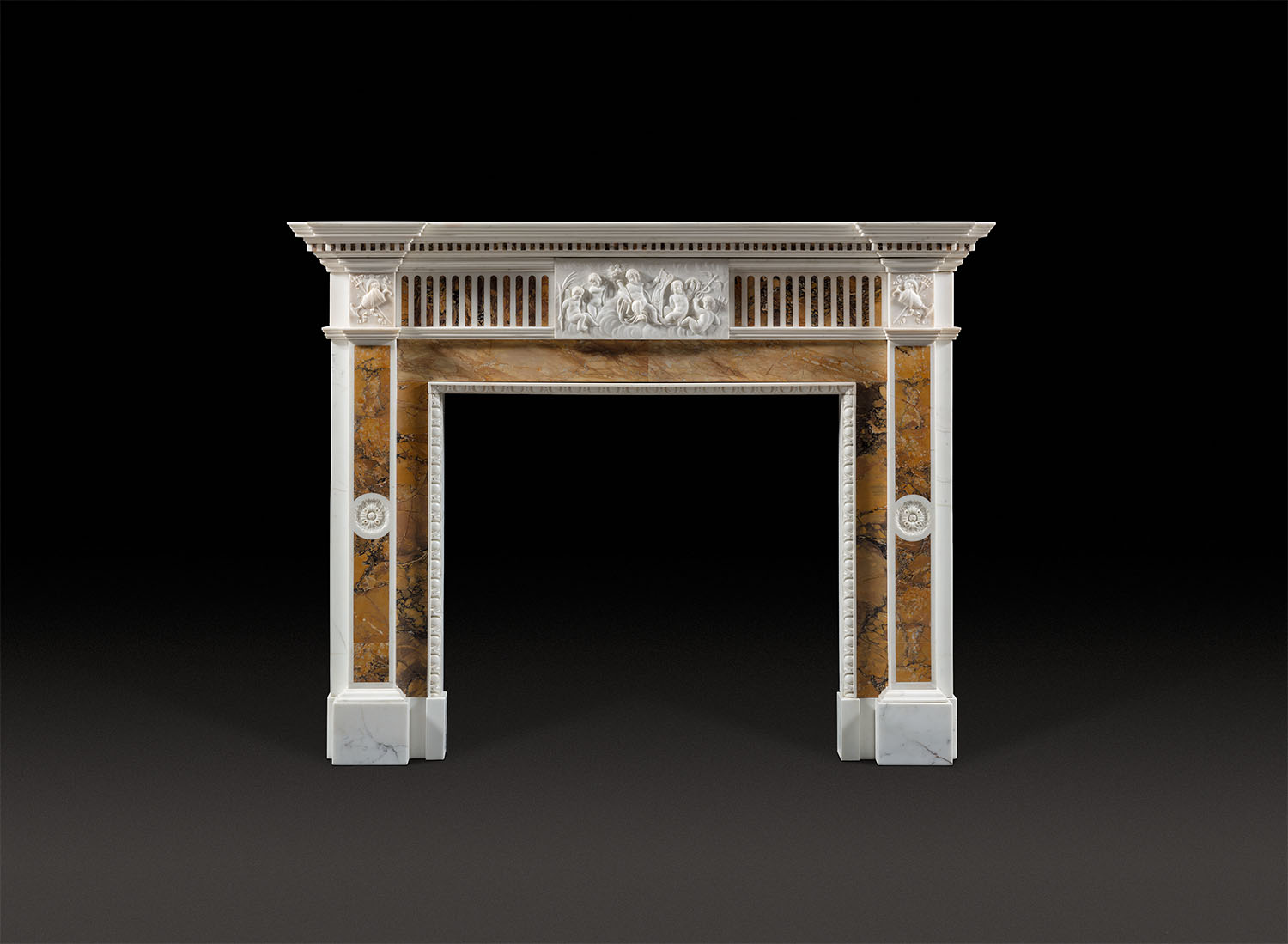 An Important Early 20th Century Commemorative Neoclassical Style Chimneypiece
An important, early 20th century, English, statuary and Siena marble fireplace, celebrating the end of the Great War of 1914–18. Most likely a special commission from the famous White Allom & Co. of Hanover Square, with a centre plaque allegorical of Abundance. The whole following a late 18th century, neoclassical, Adam style design. Circa 1920.
With tiered shelf breaking forward over the jambs, inlays of Siena to the dentil moulding. The wide rectangular centre plaque with a central figure of Abundance holding in one hand an overflowing cornucopia of fruits and in the other a rudder, which can be associated with the idea of 'Good Government'. This figure is accompanied by four other armorini, all holding instruments associated with the Roman Gods: the Caduceus of Mercury (Eloquence and Reason), the Trident of Neptune, the laurel wreath of Victory, the Lyre of Apollo (Music and Poetry) and a branch/frond (an attribute of Fame). This is flanked by panels inlaid with flutes of Siena, the end blockings with tilted wine ewers draped with ribbons on Neptune's trident. The pilaster jambs inlaid with Siena and with acanthus decorated with circular paterae in statuary, the opening with Siena panels and trimmed with egg and dart in contrasting statuary. The whole raised on rectangular footblocks.
Height 57½in (146cm) width 68in (173cm)
Internal height 40in (101.5cm) width 43¾in (112cm)
Depth 14in (35.5cm)