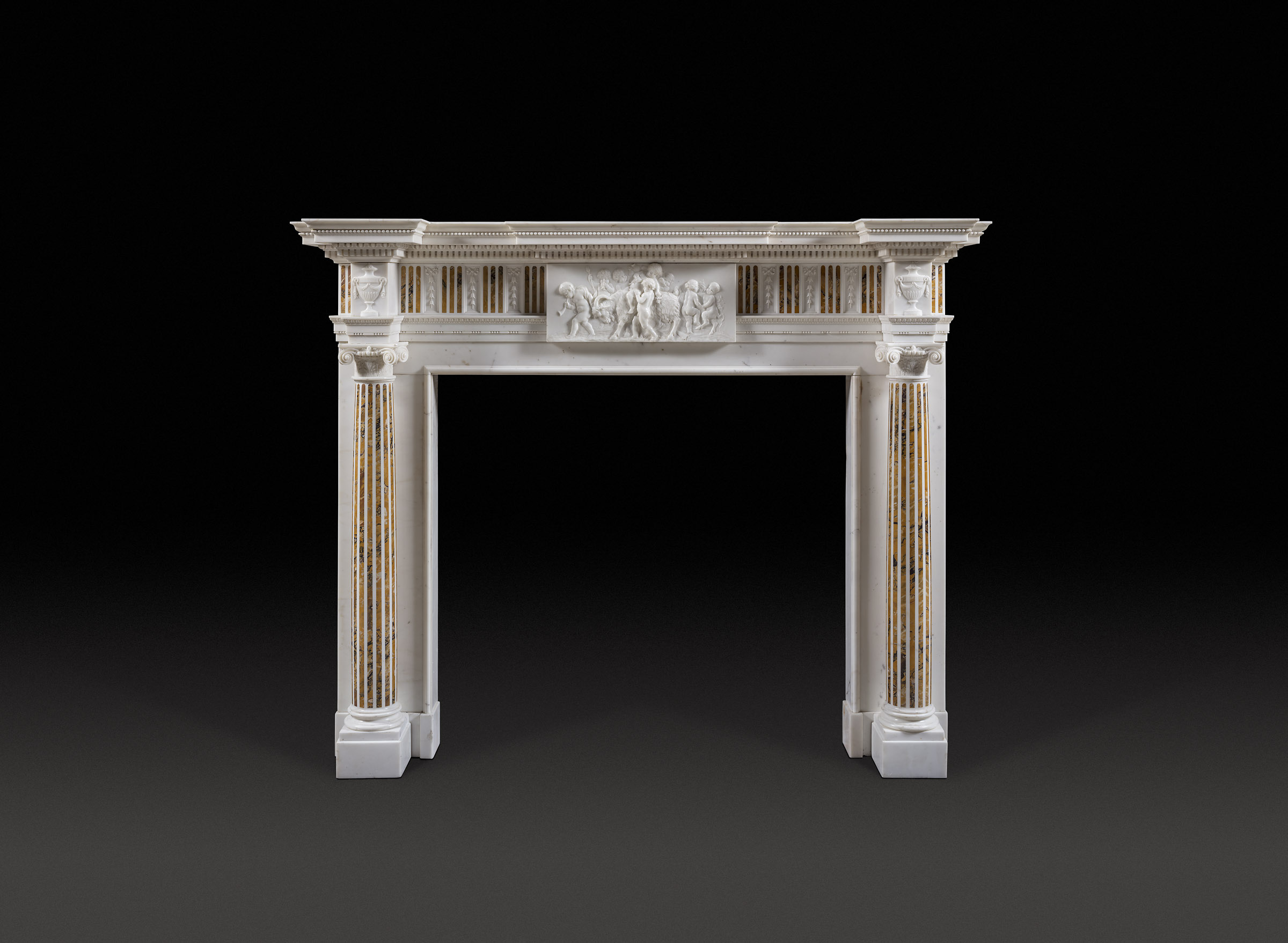 A Late 18th Century Style Chimneypiece in Statuary and Sienna.
A late 18th century style chimneypiece in statuary and Siena marbles of truly exceptional quality. The moulded shelf, carved with dentils and Egg & Dart, breaks forward above the central tablet and square corner blocks. The tablet depicts a scene of Bacchic putti dancing and revelling with music, some holding grapes and ewers of wine, one holding a Thrysus, a spear headed by an acorn often carried by Bacchus, to the right a putto has the legs of a goat, and centred with a putto riding a finely carved ram. The tablet flanked by a frieze decorated by alternating finger flutes inlaid with Siena, and finely carved bows and flowers. The cornerblocks, carved to the front with Roman urns, sit above composite Ionic columns, also inlaid with Siena flutes. The columns are fully detached in the round, on turned socle plinths above square footblocks. The convent Siena is of particularly noteworthy quality. The Ram is emblematic in classical and Georgian sculpture of strength, and is often included in scenes associated with Bacchus as a sacrifice.
Provenance: 32 Belgrave Square, thought to have been installed by David Hicks.
Height 61 3/8 in (156cm) width 79 in (200.7cm)
Internal height 44 in (111.7cm) width 48 1/4 in (122.6cm) Footblock to footblock 70 1/2 in (179.5cm)
Depth 17 1/2 in (44.8cm)