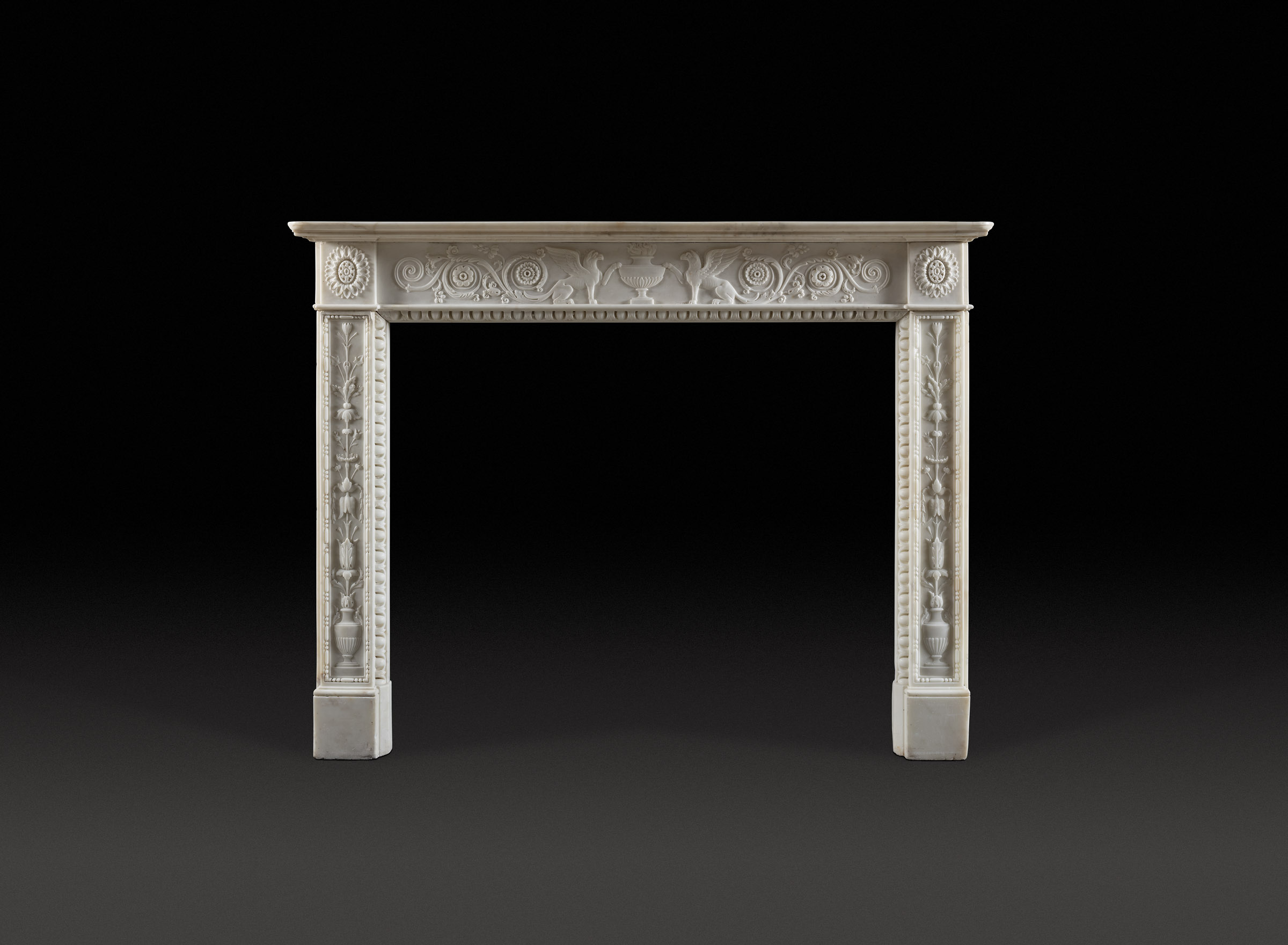 A Superb Late 18th to Early 19th Century Statuary Marble Chimneypiece Carved in High Relief
A neoclassical fireplace produced in Italy most probably for the English Market, in the manner of Lorenzo Bartolini (1777–1850). The gracious and elegant composition is typical of Bartolini's style, merging Greek and Roman decorative elements together with the inventiveness of the Florentine Qauattrocento. The frieze is centred by a tazza urn upheld by a pair of griffins, their tails turning into stylised scrolling acanthus. The opening is framed by very fine underscale egg & dart motif, and the jambs are carved with a variety of exotic antique foliage, ending with sunflowers on the cornerblocks.
Lorenzo Bartolini left Florence when very young to travel to Paris and study art. In the French capital, he became a loyal supporter of Napoleon and when the emperor was exiled to Elba, the sculptor accompanied him. However, when Napoleon escaped in 1815, Bartolini returned to Florence opening a studio in Via della Scala and started to produce more commercial work: vases, tazze and chimneypieces. Bartolini was much admired and patronised by British tourists to Florence, including the Duke of Devonshire at Chatsworth, who ordered an even larger copy of the Medici Vase (1819) and a marble bath all'antica (1822).
Height 49¾in (126.5cm) width 68¾in (174.5cm)
Internal height 40in (101.7cm) width 49½in (126cm)
Footblock to footblock 68¾in (175cm)
Shelf depth 15in (38cm)