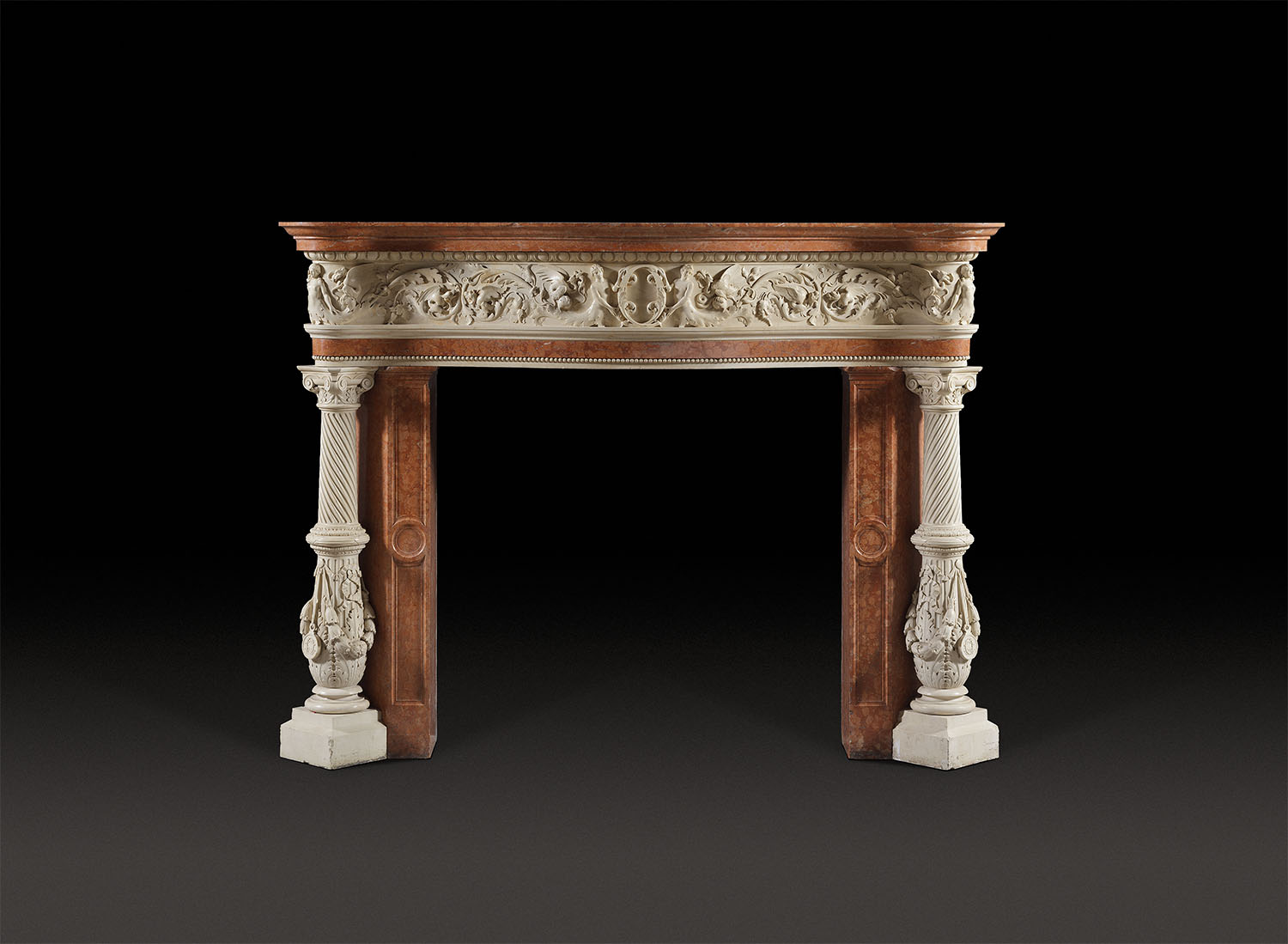 A Theatrical, Venetian, Renaissance Style Chimneypiece in Statuary and Rosso Verona Marbles
An Italian, Venetian, Renaissance style antique fireplace in statuary and Rosso Verona marbles. With serpentine shelf above the statuary curved frieze carved with a central cartouche upheld by two mermaids flanked by fabulous dragons and scrolling acanthus, the rounded ends with more mermaids. The jambs in the form of baluster shaped pedestals richly decorated with swags of flowers. The opening framed with Rosso Verona panels.
This chimneypiece was bought from the dealer Terrazzi of Verona in the 19th century by George Thomas Clarke to decorate the estate he was building, Talygarn house in Wales. There has been a house of some description on the site since the 14th century, but by 1880 the house had been transformed into a mansion in the Tudor Gothic style. It was constructed of local stone and slate with mullioned and transomed windows. A team of Venetian craftsmen was hired to decorate the principal rooms in a rich Italianate style. Clark was an industrialist, Ironmaster for Isambard Kingdom Brunel. For more information please refer to G.T. Clark: Scholar Ironmaster in the Victorian Age edited by Brian Ll. James, 1998, page 165.
Height 60¼in (153cm) width 81in (205.7cm)
Internal height 44¼in (112.4cm) width 46¾in (118.7cm)
Footblock to footblock 81in (205.7cm)
Shelf depth 17½in (44.5cm)