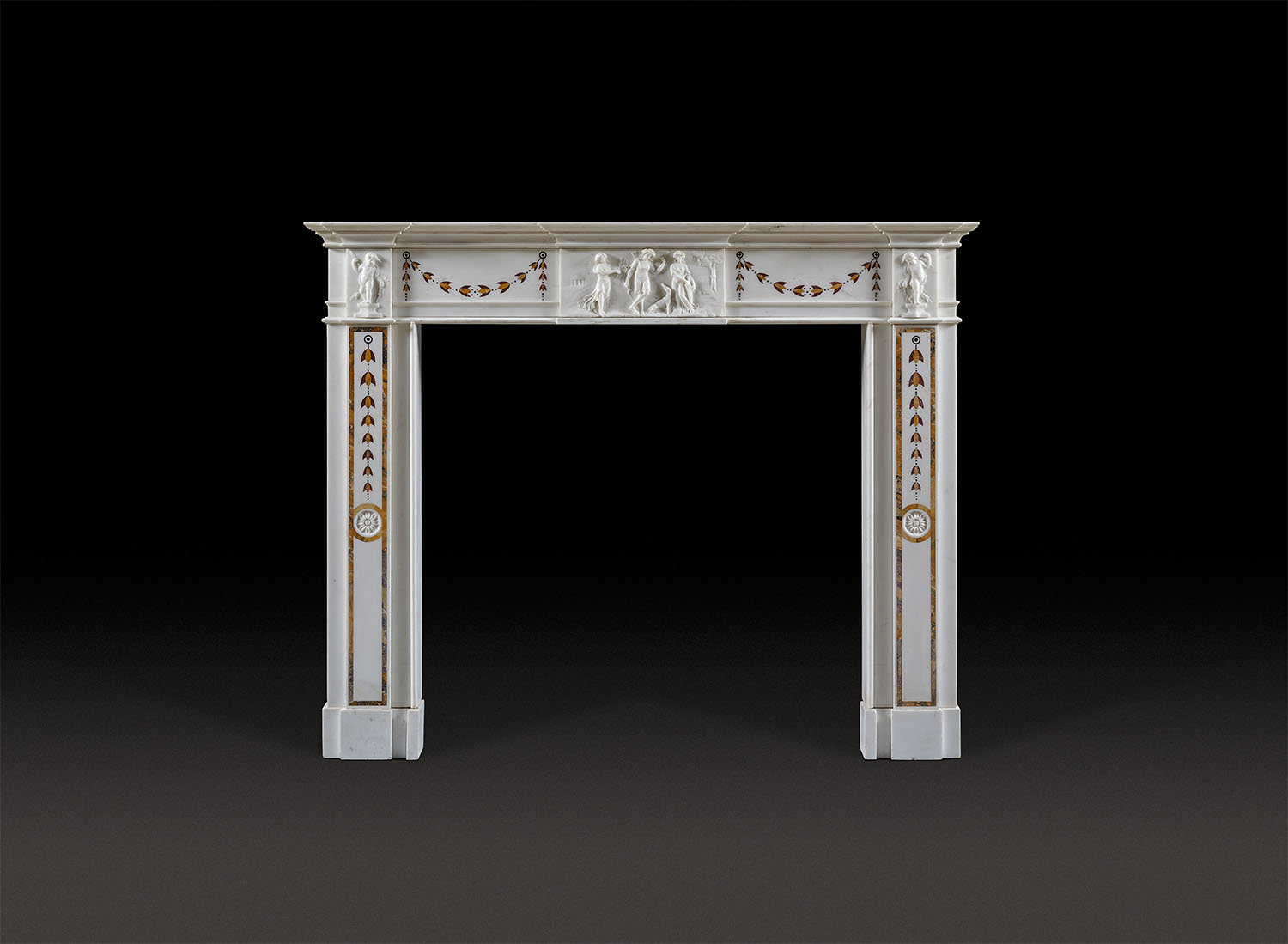 An Exceptional Irish 18th Century Chimneypiece with Inlaid Pietra Dura
An exceptional 18th century Irish neoclassical antique fireplace of statuary marble, inlaid with Pietra Dura specimins of Rosso Antico, Verde and Kilkenny Black. Almost certainly from the workshop of George and Hill Darley, later part of the century, circa 1775.
The breakfront moulded tiered shelf above the frieze which is centred with a well sculpted relief of Diana the virgin huntress (Gr. Artemis, the stern and athletic personification of chastity) shown tall and slim wearing a short tunic shouldering a quiver and holding her bow. She is flanked by two of her attendant companion nymphs, one arms her with arrows the other with a shield to protect her against Cupids love arrows. In the background is a round pillared temple of virtue with a domed roof, at her feet sits a hunting hound gazing at her. To each side are panels inlaid in polychrome marbles of swags of bell flowers falling from circular paterae. The end blocks with figures of playful cupids on triform squat pedestals. The pilaster shaped jambs with inverted graduated falling flower husks framed by a band of Siena marble centred with circular paterae surrounded with more Siena. The opening framed with simple mouldings and the whole rests on foot blocks.
Height 57⅛in (145.3cm) width 71½in (181.6cm)
Internal height 46¼in (117.5cm) width 48in (121.9cm)
Shelf depth 6in (15.2cm)