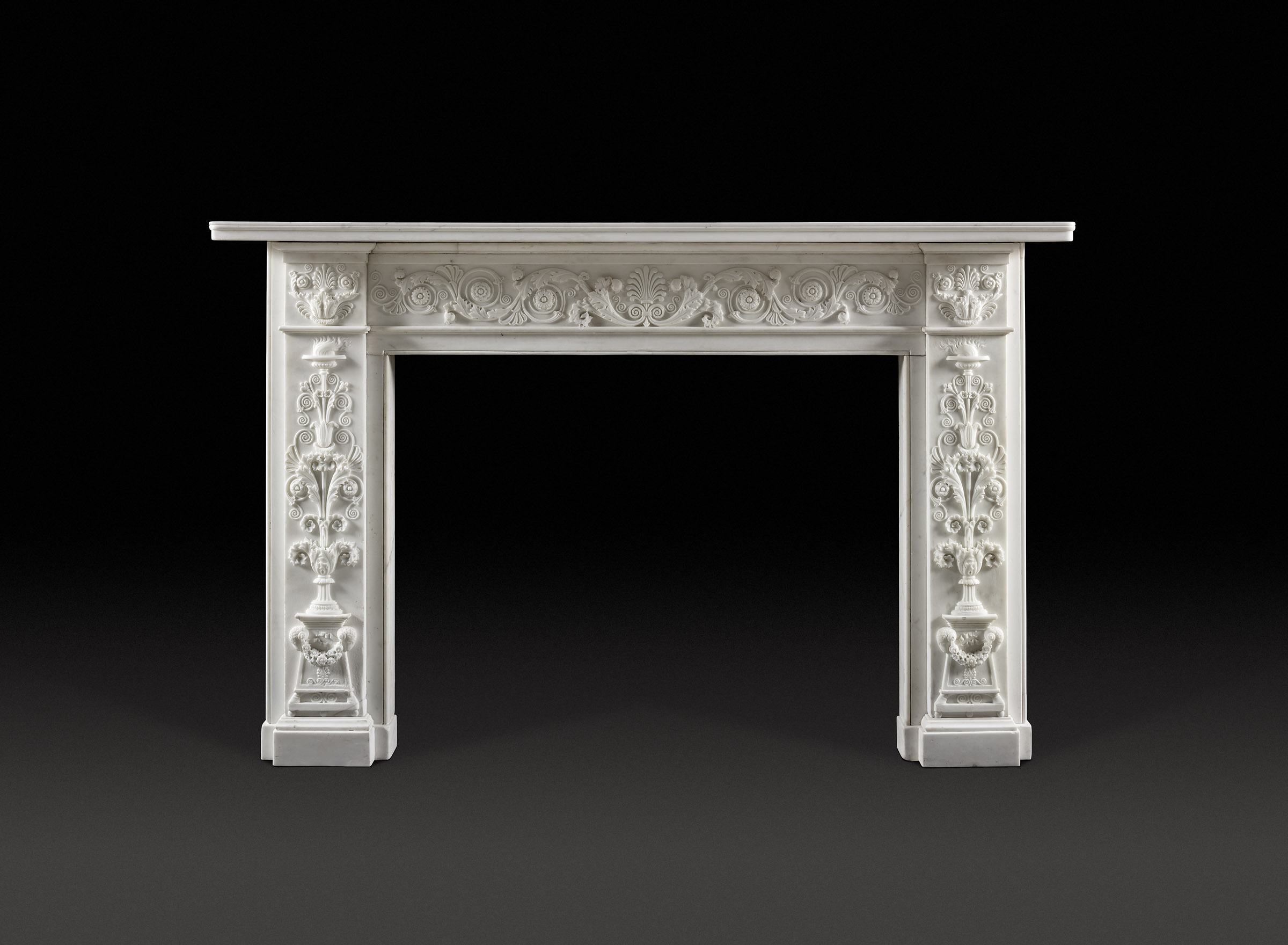 A Highly Important Near Pair of Statuary Marble Chimneypieces
A highly important near pair of statuary marble chimneypieces by John Peter Deering, for 1 Carlton House Terrace 1831–33. See N393 for pairing.
Carved in high relief from fine white statuary marble, these magnificent neoclassical chimneypieces represent important survivals from the original interior of one of London's finest addresses, 1 Carlton House Terrace. Combining motifs prevalent in both ancient Greek and Roman architecture from Pompeii, these wonderfully creative masterpieces are believed to be rare works by the enigmatic classical archaeologist, architect and designer John Peter Deering RA (1787–1850), formerly known as JP Gandy. Between 1831 and 1833, Deering designed the interior of the newly built 1 Carlton House Terrace for its first resident, William Edward Tomline. The jambs of both of these works are decorated with twin pairs of highly ornamented and flaming torcheres and their horizontal architraves are framed by two further pairs of identical corner blocks in the form of stylised anthemion and rosettes that spring from acanthus flowers. Their architraves continue these iconic motifs in an auricular and rigorously symmetrical fashion.
Provenance: 1 Carlton House Terrace, London, SW1 5DG, by John Nash (1752–1835)
Height 50in (127cm) width 78in (198.1cm)
Internal height 38in (96.5cm) width 48in (121.9cm)
Footblock to footblock 71⅝in (181.8cm)
Depth 13in (33cm)