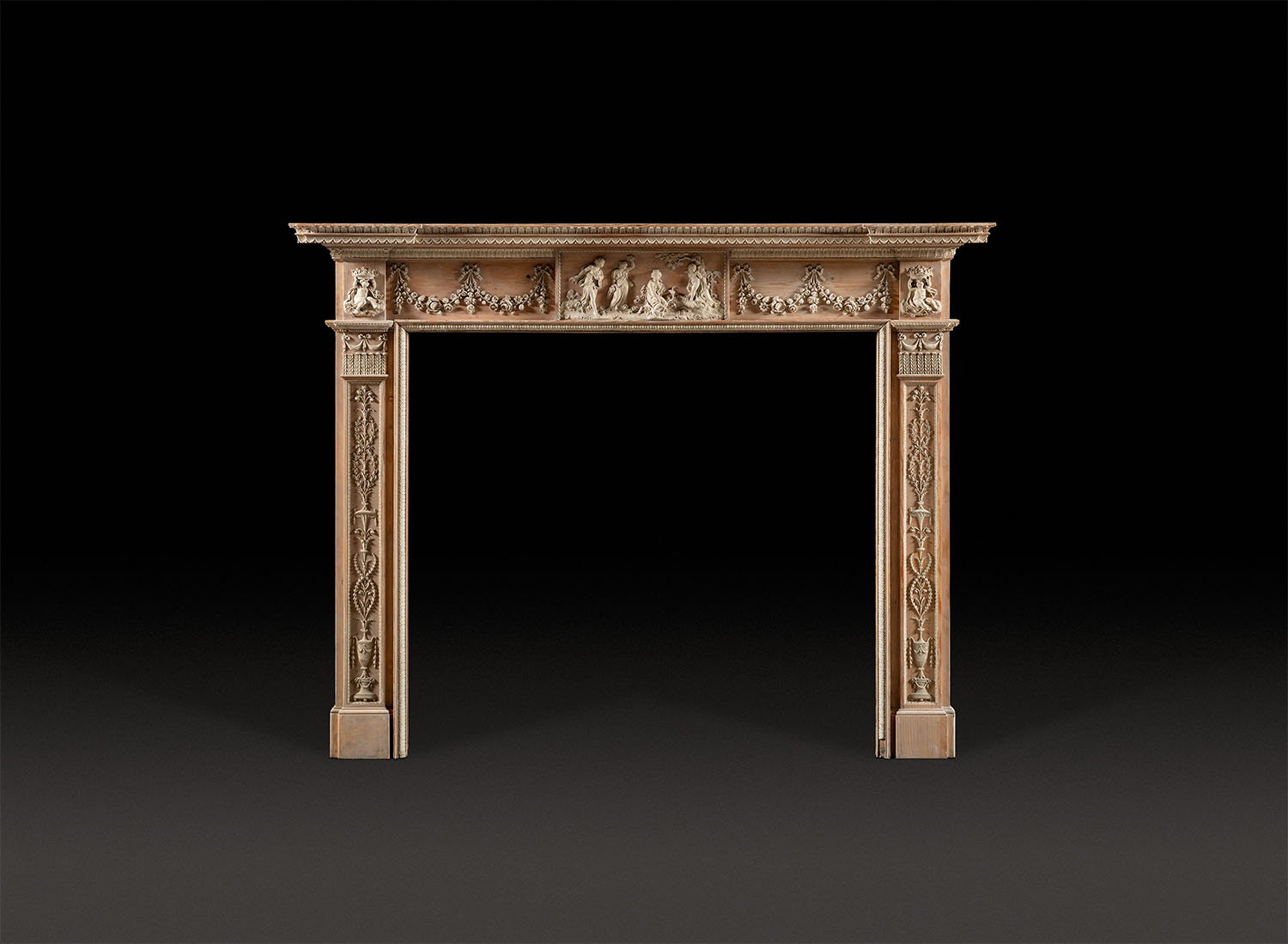 An Incredibly Fine George III Carved Pine and Gesso Mounted Chimneypiece
A superb George III, neoclassical, gesso mounted pine fireplace after a design by Robert Adam (1728–92) of the finest quality, the centre tablet depicting the Punishment of Cupid, the God of Love. Circa 1770–80.
The tiered shelf breaks forward over the jambs, beautifully decorated with acanthus leaves above delicate filigree swags. The centre tablet decorated with the youthful Cupid tied to a tree, being punished for the mischief that he has caused with his arrows by his mother Venus, who is kneeling beside his confiscated quiver. Trying to break his bow, she is attended by two of Diana's nymphs, the guardians of chastity who bring flowers to strike him with. The flanking side panels with swags of summer flowers upheld by knotted bows. The pilaster jambs with olive leaves in strings, suggestive of peace, and lambrequins issuing from typical Adam urns on pedestals and capped with enclosed acanthus leaves and swags. The blockings above with seated putti holding aloft baskets of flowers. The whole raised on footblocks.
The refinement and sophistication of the pressed, indented gesso work can only have been carried out by one of the principle and leading manufactures of such pieces such as the Soho works of Matthew Boulton and John Fothergill. See Sir Nicholas Goodison, Matthew Boulton, Ormolu, 2002.
Height 59in (150cm) width 76¾in (195cm)
Internal height 46⅞in (119cm) width 51⅜in (130.5cm)
Footblock to footblock 68½in (174cm)
Shelf depth 6½in (16.5cm)